Proper way of speaking is essential when it comes to everyday communication especially if we are in daily connection with people. For many people the first few weeks with dentures are a challenge as it cause problems in forming and pronouncing words.
---
Speech defect is very common among those who wear dentures. The problem can be eliminated one the owner gets used to wearing dentures.This doesn't mean that the problem is eliminated for good as dentures can cause several other irreversible problems. General problems are feeling full, not getting used to the dentures and more salvia.
Problems while speaking as a result of wearing dentures
Lisping.

Dentures are an alien object that takes up significant parts of the mouth. Usually the reason is that the mouth generates more saliva. Excessive salivation assists lisping. As a result, unintended mumble is very frequent.
Gargle-type of speech.

Dentures start to move because of excessive salivation. As a result people speak like they are gargling or rinsing.
Whistling sound while forming certain words:

can be caused by the front teeth part of the dentures which are positioned differently than the natural ones so sometimes new positioning are needed for the tongue to be able to form words. Whistling sounds often come along with lisping sounds.
Feeling full.

Many times we feel like speaking with a full mouth. This happens when we wear dentures for the first time. There is big chance for this feeling to disappear once we get used to wearing dentures. If it doesn't, we need to visit the dentist again which comes along with additional costs.
If only speech defect was the biggest problem
Unfortunately, dentures cause several irreversible problems that have the same source: jaw bone loss. Dentures take up a big part in the development of bone recession which results in the need of readjustment or relining in every few months.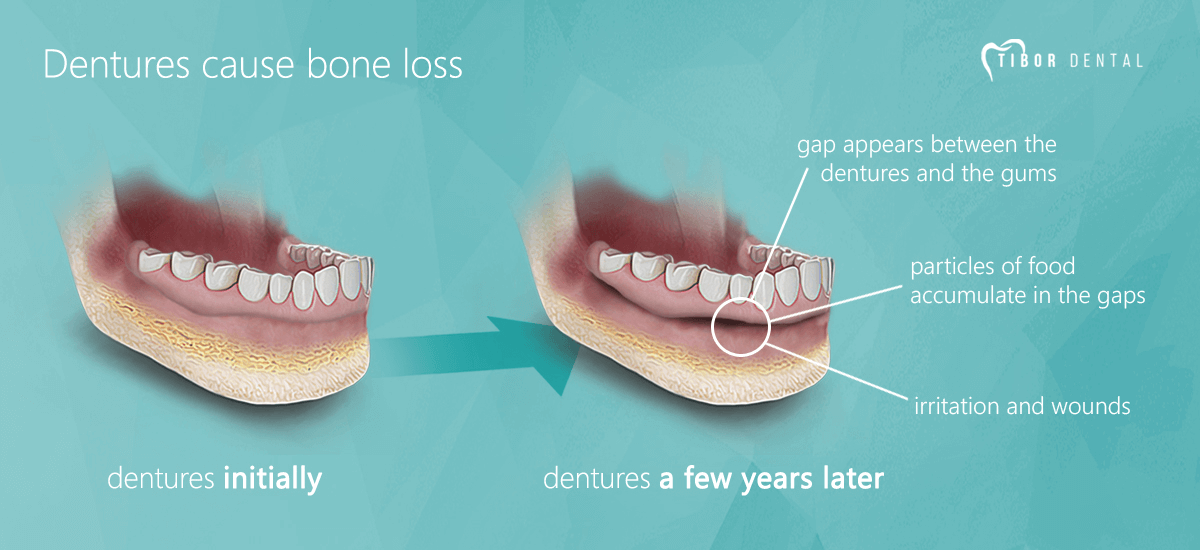 6 additional problems caused by dentures
Dentures can cause several other problems that only a few dentists talk about:
Here's the solution that makes is possible to hassle-free speaking
Fixed tooth replacement is a permanent solution for those who have lost all of their natural teeth or wear dentures as these teeth are very similar to the originals in function and appearance. Implants function similarly to tooth roots, they also balance the chewing force in the jaw bones so there is an excellent chance that the bone loss stops.