There are many people who cannot receive implants after having been toothless or having worn dentures for a long time as they don't have sufficient bone left. What causes bone loss? Can it be stopped? Is there any possibility of receiving implants even if one has been told that it is not possible?
---
We receive enquires almost every day from people who have been refused implants previously, saying that they do not have enough bone to hold implants.
It is good to know that there are huge differences between dentist and dentist. All dentists are good in different fields of dentistry. We work together with implantologists who are specialized in implantation, not dentists. This is a big difference.


"Why haven't I been informed about this?"

We assume you have already asked this. Unfortunately, many dentists do not inform their patients properly when it comes to choosing a method of tooth replacement. Being toothless or wearing dentures for a long time results in bone loss. Haven't you heard about this? This is one of the biggest disadvantage of being toothless or wearing dentures, which are also sources of several other problems.
What is worse, we may not be able to receive implants in the future.
Before choosing a method of tooth replacement it is very important to find out more detailed information about the advantages and disadvantages involved. If you do not know what causes bone loss you had better stay with us, not because of us but because you owe it to yourself. You really ought to be informed about the following issues regarding jaw bone loss:


What causes jaw bone loss?

Jaw bone loss is primarily caused by tooth loss. Every single tooth has a key role in maintaining the healthy structure of the jaw bone, especially the tooth roots. Tooth roots are responsible for directing the forces in the jaw in a balanced way, if these effects change the jaw bone is exposed to severe changes.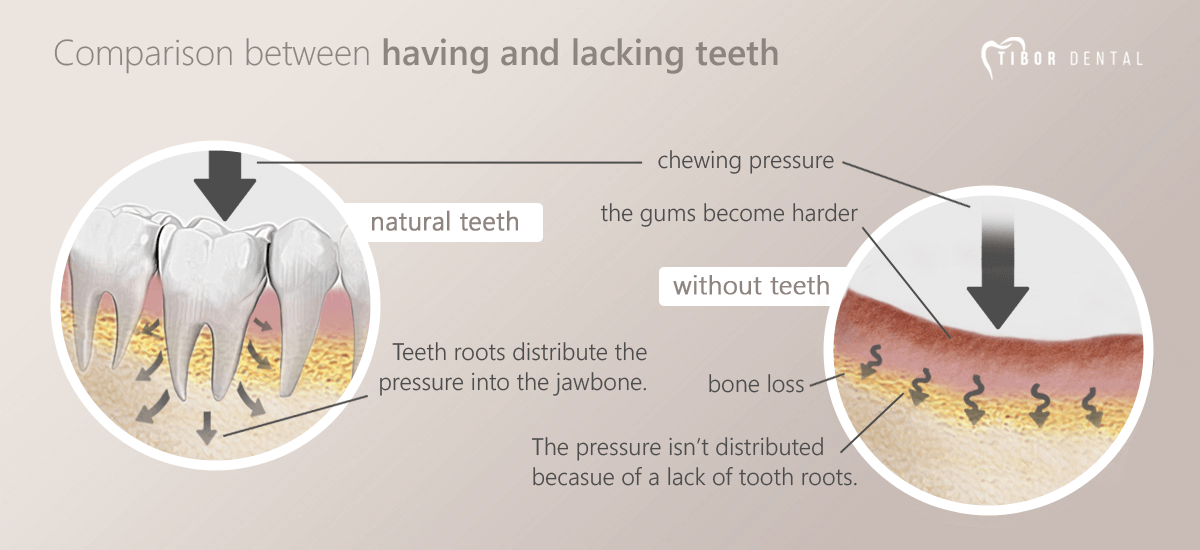 If we lose our teeth there is nothing that can direct force to the jaw bone and this force is responsible for maintaining the structure of the jaw bone. In this case the chewing forces are directed onto the top of the bone instead of the inside. This is why gums become hard when we don't have any teeth or wear dentures.
In other words, after losing teeth the body assumes that there is no longer a need for the jaw bone so it slowly starts to recede.
Missing teeth are usually replaced with dentures, but the problem with this is that they cannot direct the chewing forces to the jaw bone as dentures do not have roots. As a result, our jaw bone recedes while wearing dentures just as it does when we have no teeth at all.
As an example: If we do sports regularly it is noticeable in the shape of our body, the muscles become firm, toned and shapely. However, if we stop doing sports the muscles slowly start to deteriorate and lose their shape.


6 additional problems caused by dentures

Dentures can cause several other problems that only a few dentists talk about:
How might the process of bone recession be stopped or slowed down?

There is a way to arrest jaw bone loss but only if we choose tooth replacements, in time, that are very similar to natural teeth in function. Most importantly, the function of the roots needs to be replicated.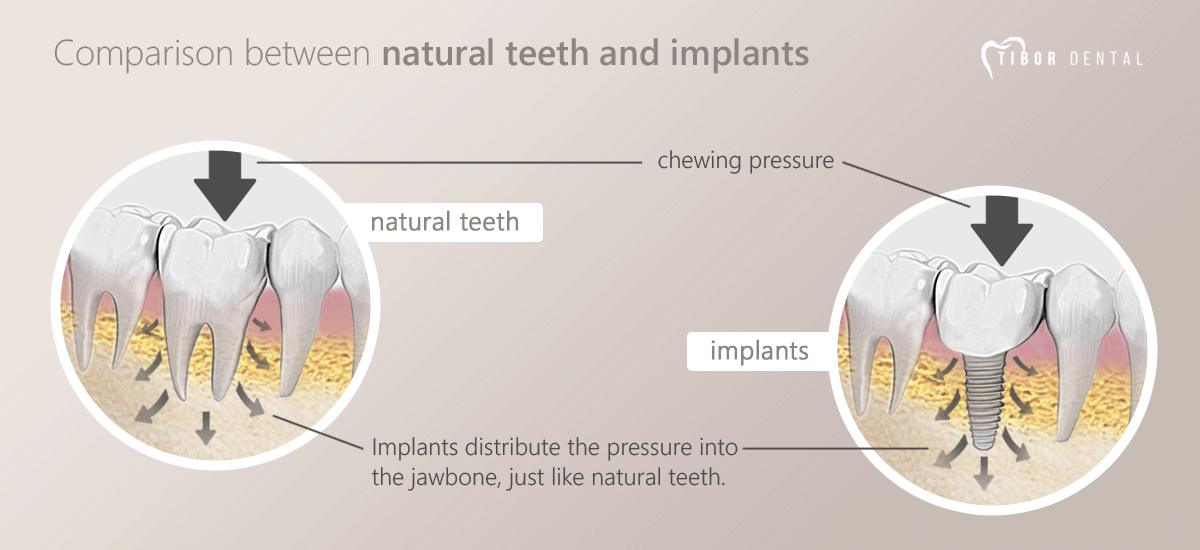 In the case of fixed tooth replacement methods the implant replicates the role of the tooth root. Implants provide a balance in the distribution of chewing force so that jaw bone loss can be stopped.
You need to be aware of this fact as severe jaw bone loss develops very easily.


We can lose up to 25% of the jaw bone during the first year following tooth loss

The density and shape of the jaw can be maintained in their original forms if the compressive and tensile forces remain unchanged. According to some research, one can lose up to 25% of the bone after losing teeth if the bone is not subjected to adequate pressure. This means that deformaties may become apparent on the face within a year.
We would suggest that you have your missing teeth replaced as soon as you can. However, it is important to note that the method of tooth replacement you choose is of crucial importance.


What does the success of implants depend on?
Good medical health. You should not be suffering from periodontal gum disease.


Bone thickness and density. The thickness and the density of the bone is very important as they determine whether or not there is a need for a bone graft or sinus lift. If these are needed the required amount of bone is removed from the patient's hip bone.


The position of the remaining teeth.


The size, thickness and number of the implants.


The location and direction of the implants. The specialist determines the location, direction and number of the implants needed in the form of a treatment plan.


Whether there is any need for a sinus lift. A sinus lift is needed if there is insufficient bone on the upper jaw around the sinus area.


The expertise of the dentist. Our specialists insert hundreds of implants per year.

You do not have to give up on receiving implants yet
What if we said you could still receive implants? What if we said we could help you as we have already helped hundreds of patients that others could not. There is technology available which makes it possible to help people who have been refused implants before.