Those who wear dentures suffer from several disadvantages; they experience difficulties in eating or experience frustrations because dentures affect their social lives as well. Did you know that ill-fitting dentures can cause mouth cancer? Let us explain how.
---
Those who have been wearing dentures for many years will be all too familiar with the everyday inconveniences that they can cause. Dentures can solve dental problems, but are only ever a short term solution as they start to move after a time. The movement of dentures can be controlled by using denture adhesives, but this is never a permanent solution.
The reason why dentures move
Only a few people are probably aware that wearing dentures can cause several irreversible problems such as bone loss, which is the root cause of almost all subsequent problems.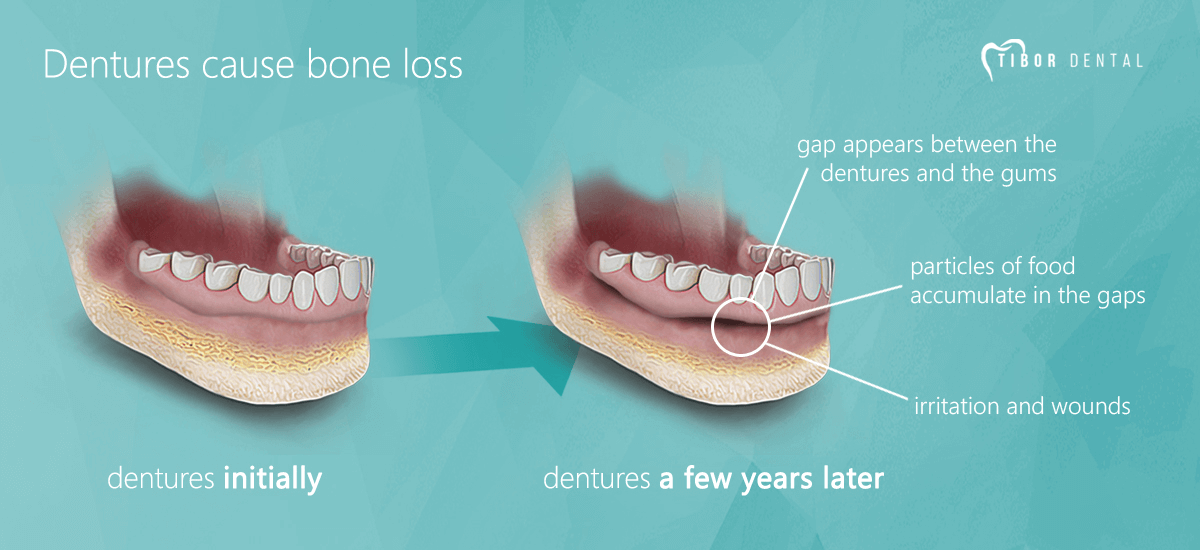 Problems and disadvantages often arise within a short period of time. Dentures have to be adjusted or re-aligned every few months so that they can re-adjust to the gum as, unfortunately, dental adhesives cannot maintain stable connections for a long time.
Irritation to the lining of the mouth
Moving dentures can cause irritation to the mucous membrane and wounds can develop in areas which are constantly exposed to irritation. If these wounds are not treated they may become infected, causing additional inconveniences and diseases. Wounds in the mouth cause problems while eating be salty, hot, sour, vinegary and piquant foods all cause pain when in contact with the wound.
Infected wounds can cause mouth cancer
If infected wounds are not treated in time mouth cancer can develop, which can only be treated with surgical intervention and medication.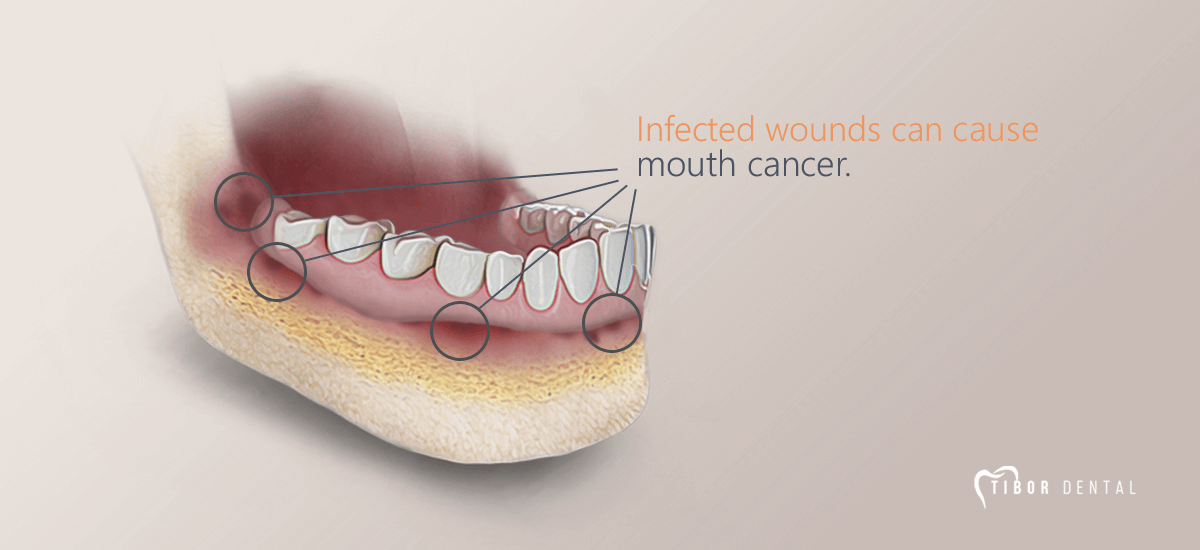 According to Cancer Research UK most research cannot verify that ill-fitting dentures are directly related to mouth cancer. Nevertheless, dentists strongly advise that you visit them at least once every five years for a check-up. In addition, it is important to rinse the mouth thoroughly at least twice a day and to remove dentures at night. There also exists a consensus of opinion that wearing dentures, excessive tobacco use and alcohol consumption, taken together, are connected to the development of mouth cancer.
9 symptoms of mouth cancer
Pain in the mouth.

Wounds and irritation while wearing dentures can cause pain in the mouth. This is one of the most common symptoms of mouth cancer.

White or red patches in the mouth or throat.

White and red patches are caused by harmful bacteria, which are one of the symptoms of fungal infection.

Difficulty in swallowing.

One of the most common symptoms is feeling pain and a burning sensation while chewing and swallowing food.

Speech problems.

The voice become thinner and sounds as though we have flu.

A lump in the neck.

Lumps can develop in the neck as the infection can reach the lymph nodes as well. This is a common symptom of mouth and oesophageal cancer.

Weight loss.

Sudden and rapid weight loss is a common symptom of almost all cancer types. Mouth or oesophageal cancer causes pain while eating or swallowing.

Bad breath

. (halitosis)

The shape of the lips change.

Lips become thicker and lumps can appear.

Frequent bleeding and numbness in the mouth.
If you experience any of these symptoms it is strongly advisable that you have a thorough examination as soon as possible in order to determine the source of the problem.
6 additional problems caused by dentures
Dentures can cause several other problems that only a few dentists talk about: